Lowline cattle.
Munchranch Farm now has Lowline ( American Aberdeen) cattle for sale.
These are Miniature Angus cattle developed by the Trangie Agrciultural Research Center in Australia.
We have several cows, heifers and a bull still available for immediate sale in the US.
Here is a screenshot from Farmhouse Guide. Click on the photo to read the full article on miniature cattle.
Lowline Cattle for sale at
MunchRanch

These are a smaller breed of cattle which eat much less, do less damage to rangeland,
easier to handle and are more friendly than some other breeds.
Meat production is very good for their size and they still give you a tax exemption.
Get more value with this good natured and well behaved breed of cattle.

If you have a bucket of feed or a bale of hay
they will follow you around the world.
If you have a tractor or 4 wheeler they will race you to the barn.

All these are available for $1250 each.
They may all be bred other than this year's only heifer calf.
The bulls are $1500.
You have a choice of the bottle fed bull or the larger, mother fed bull.
The larger bull is less tame but not aggressive. The smaller, bottle fed bull wants to be near you
just in case you might have some cubes or a bucket nearby.

There are 3 cows, 1 steer, 2 bulls, and 3 heifers.
The calves were born in Feb. 2023.

The heifers are 2 years old and the cows are 4.
Purchase the whole herd of 9 animals for $10K and save $1750.

This adorable little guy was born red and has changed
to a black brindle in color. He is smaller than the other bull.

Below is the bottle fed bull calf.

Youtube videos:
We also offer Zebu Bull straws at MunchRanch Farm
We no longer have zebu cattle but are still offering semen from
*PGCH Diamond of Munchranch,
and can now ship Internationally for Red Diamond.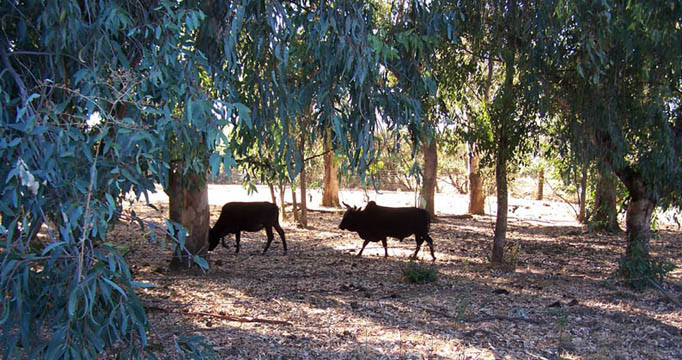 His Pedidgree is as follows:
Parents are Subras Dark Vader and 758 Gircha
His fathers parents are DAB Leo and McW's Dandee
His mothers parents are RCP Red Sam and DAB Emily

Diamond, cows, and his first son, a black and white brindle,
Photo taken in Nov. 09.

Red Diamond is 39.75" tall at the back.

Introducing
Permant Grand Champion Red Diamond of Munchranch
About 100 Straws available

**Straws available for international
and domestic shipping.**
@ $50for shipment in the US
& $100 each for International shipments.
*Shipping to Australia is $500 each straw, or you can
contact me for a peson in AU who may have straws available.
Click on picture to visit MunchRanch
Snail-mail
261 VZCR 2924
Eustace, TX 75124-9637
Larry Munchrath
© 1997, 2024, MunchRanch Farm LLC