Welcome to MunchRanch Farm

---
HOWDY PARTNERS
We usually have the Hypoallergenic
Siberian Kittens avaiable.


Welcome to MunchRanch Farm,
owned and maintained by Larry Munchrath, Michael Nordin.
The Ranch is located in the beautifully wooded East Texas hardwood forest area, 16 miles west of Athens, and 16 miles south of Canton, Tx, where First Monday is a popular attraction.
We breed a hypoallergenic cat for our customers who may be allergic to cats.
This feline fairly new to the USA is the Siberian Cat from Russia. They are very special. If you are allergic to cats, you might find that you can have one of these hypoallergenic cats. It does not work with every human, but in my cattery, it is about 90% successful. There is no such thing as a Hyperallergenic cat, but there is a Hypoallergenic. That is the Siberian. Go to our cat age and read all about these wonderful animals.
We often have Siberian kittens for sale and they come in all cat colors, includng the blue eyed Color Points, Calico, Gold, Silver, brown tabbies, most can come with white, and sometimes we even have solid colors.We are USDA licensed and can ship.
There is a new law that states anyone shipping kittens via the internet must have a USDA licenses if the kittens are sold sight unseen. So be sure to ask any potential breeders if they are licensed.
My Sister has cat allergies, so to solve that problem, she has acquired the new love of her life, (other than her husband) a red and white Hypoallergenic Siberian cat named Stoli. Of course, she treats it like her new child, birthday celebrations and all! She recently acquired another Siberian that is pure white with blue eyes.
His name is Ice. Now, she has genuine Stoli & Ice from Russia. :)
Here, Stoli is havig his birthday party.
Some party goers.
Munchranch now offers The World's Best Pet Food from Life's Abundance.
This food is for Dogs and Cats, and is made of the finest fresh ingredients,
which includes Real Meat, no by-products, and does never uses corn, wheat, soy.
The site has all the ingredient informaton, the prices, the company facts,
and comparison charts so you can see what you are really putting into your pets.
Please take a look and decide for yourself if you want your pet to live a healthier and longer life.
And it is not any more expensive than some of the other premium foods that are becoming available.
Delivery is pretty cheap, setting up your account is very easy,
and you can even get discounts by making your account an autoship account..
Click here to go to Life's Abundance
webpage for your pet food needs
www.worldsbestpetfood.info
In addition, we offer the World's Best Pet Vitamin from Nu Vet
Click here to check out Nu Vet vitamin-mineral supplement,
and to order . Or you can call 1800.474.7044 .
Canadian and international customers must use that number to order.
Please use ID code 49712 at the prompt.
We hope you look at all of the pages of the farm, and if you see anything you want, just let us know.
The phone# is 903-887 NEST (6378) and the e-mail for me (Larry) is
Larrymunchrath@gmail.com
Thanks for visiting MunchRanch.
Larry
A litter of Russian Siberian kittens.
Wallabies
We no longer sell wallabies, but DO sell the book by David McCauley.
It is a must have if you want to successfully raise these animals.
It has over 400 pages of easy to understand information,
and your veterinarian will need it
if your pet has to visit the vet for any reason.
Click here to view the book and/or make a purchase.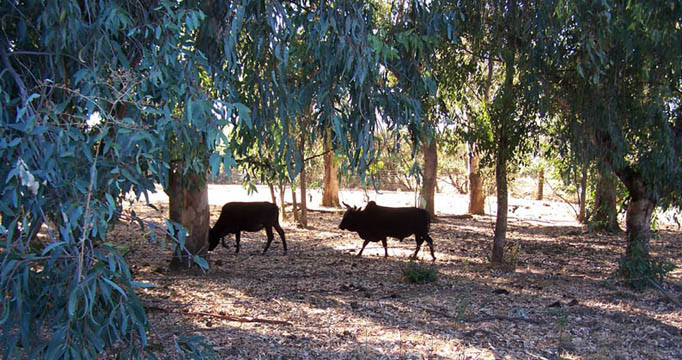 Miniature Zebu Cattle are no
longer available, but we still
offer the zebu semen for AI interests.
Click on picture above to visit MunchRanch
Good bye.
---
Informational Links
Phone: 903.887.6378
Email: Larrymunchrath@gmail.com
Snail-mail
261 VZCR 2924
Eustace, TX 75124-9637
Larry Munchrath
© 1997, MunchRanch Farm