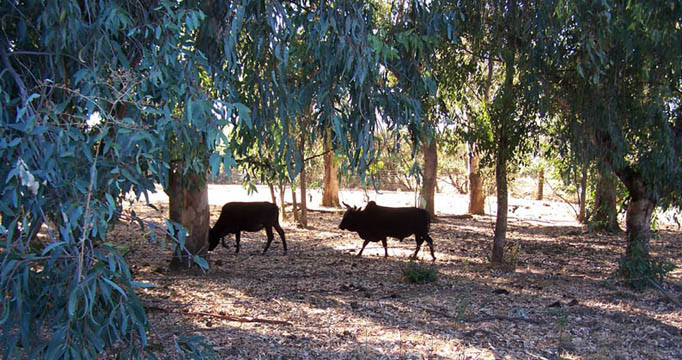 Zebu Cows at
MunchRanch Farm
We have no Zebus available.
but still offer Semen from one of our bulls, PGCH Red Diamond.
He is abou 39.75" tall.
Some of our cows are very friendly, while others are not too interested unless you are carrying a bucket of feed

Here, Mike is sitting in a chair with a bucket of feed. Being curious, all the girls want to see what he has brought them.

Below the cows are doing their usual afternoon resting from a long morning of grazing.

Tammy Whynot has turned out to be one of our great show girls,
receiving a best cow of show award in 06, Lancaster, TX.,
and Reserve Grand Champion
at the national show in Louisiana in 06. She is only 32 inches tall

Below is Tammy in her dress attire for the costume contest at the State Fair.





Belowis PGCH Diamonds first AI produced heifer calf

out of PGCH Diamond, named Lucky Farms Remington
Owned by Matt Laudengbeck, Lucky Farms in WI

Zebus for sale at
MunchRanch

All Sold Out

but we still have zebu straws available for those who do not want a bull. I also have some for International shipping.

Why have a Zebu?
Why have a Zebu?

Contact MunchRanch

Phone: 903.887.6378.

(East Texas)

Want to talk ZEBU?

Join the yahoo miniature Zebu cattle group Click on the green link below.
Click on picture to visit MunchRanch


Phone: 903.887.6378
Email: Lmunchrath@netzero.com
Snail-mail
261 VZCR 2924
Eustace, TX 75124-9637
Larry Munchrath
© 1997, MunchRanch Exotic Animal Farm